Why Dentistry for Children?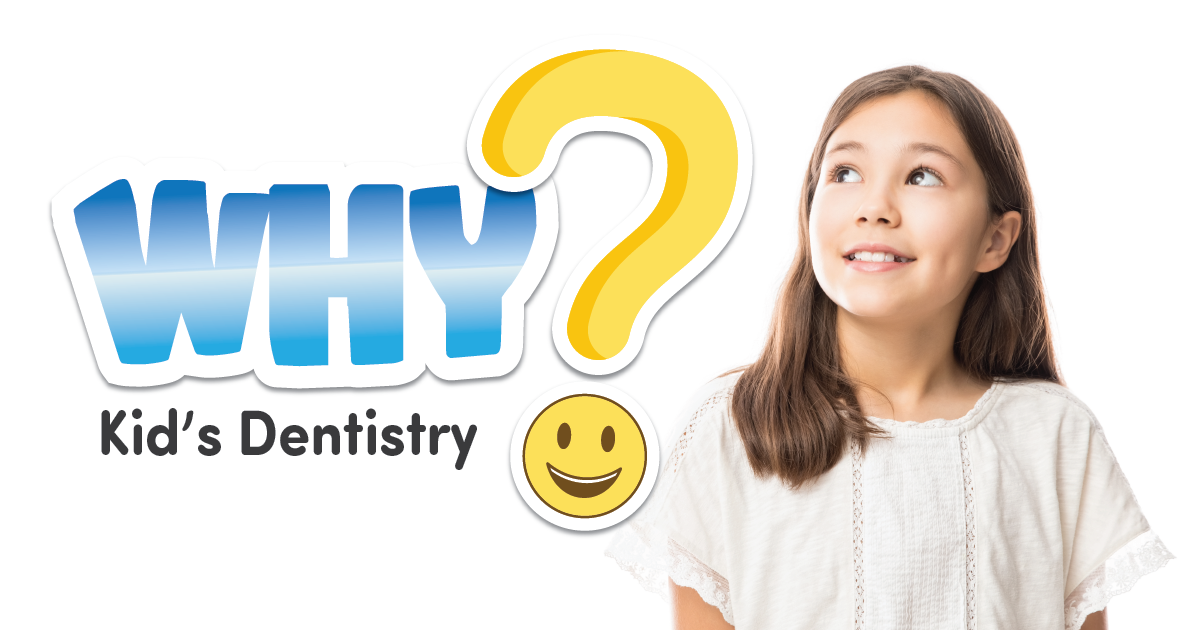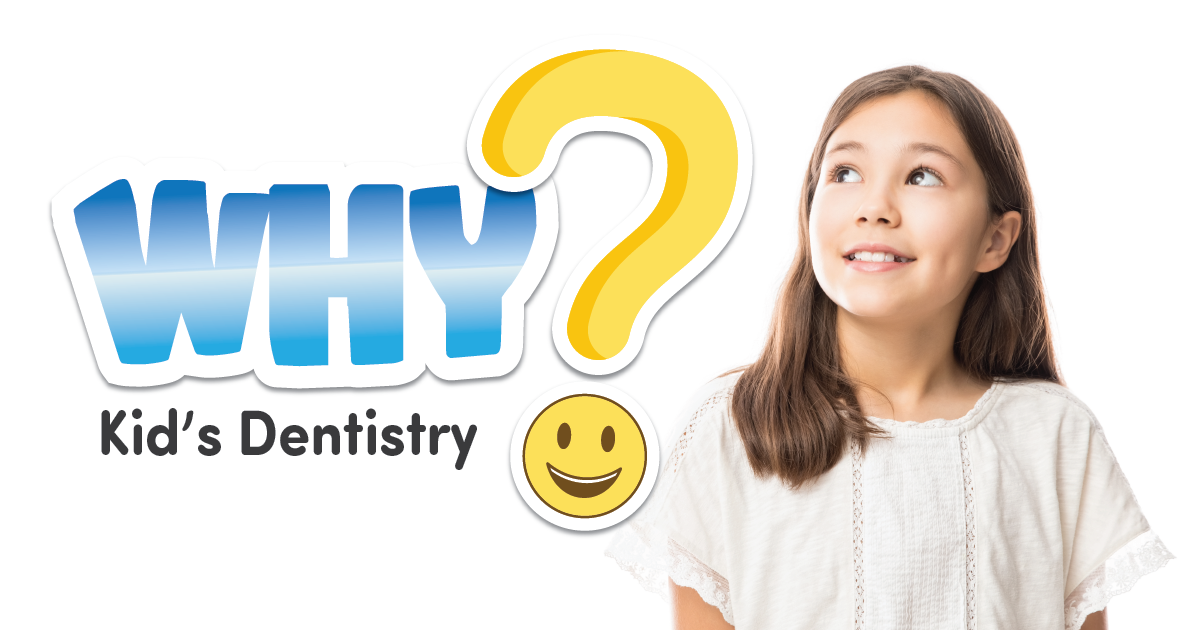 Baby teeth play a very important role in the health and development of your child and a much larger role than many people realize. Yes, they do fall out, but before they do, they need to be taken care of just as well as the permanent (adult) teeth that come in behind them. In short, baby teeth do matter, and that's why children should see a dentist within 6 months of their first tooth coming in or no later than their first birthday – a recommendation of the American Academy of Pediatrics and the American Dental Association. Knowing the ins and outs of why dentistry for children is important and how to make sure you are setting your little ones up for a lifetime of healthy smiles can be overwhelming which is why this National Children's Dental Month, we wanted to provide you with information on taking your child to the dentist, how to practice good oral hygiene habits at home and why all of this is so important to your child's overall health.
Are Baby Teeth Really Important?
Although they are temporary, their importance should not be downplayed. Besides being extremely important to overall oral health, untreated issues can lead to problems with long term effects on permanent teeth. Here's four purposes for those baby teeth:
Saving space for permanent teeth – Baby teeth save space for the permanent teeth that are growing under the gums and help guide them into the correct position. If baby teeth are lost too early, the remaining teeth may shift and fill the space meaning the permanent tooth has less room to come in and can be blocked from coming down into the space.
Helping with eating and nutrition – Children free from dental pain are more likely to chew their food completely and enjoy healthy foods. Cavities can lead to nutritional deficiencies.
Aiding in proper speech development – The proper positioning of baby teeth assists in correct syllable pronunciation and allows for quicker and clearer speech.
Developing self-esteem – Healthy teeth reduce the risk of bad breath and promote confident smiles leading to more positive social interactions.
When and How Often Should I Take My Child to the Dentist?
Dental problems such as tartar and decay can start early. In fact, according to the American Academy of Pediatric Dentistry, more than 50 percent of children will be affected by tooth decay before age five. The sooner you schedule a visit to the dentist, the sooner your child will familiarize himself with the dental office and build trust and the sooner a dentist can share information on how to best care for your children's teeth. If you wait until all of her teeth have come in or until there is a real problem, you may miss the opportunity for your child to become comfortable with the dentist taking a peek at her mouth and for discussion about good oral health habits.
Dental disease is the most common childhood chronic disease, so just as your child sees your pediatrician for well visits, he should also routinely see a dentist. Standard every-six-month dental visits usually begin around age 2.
How Should I Prepare for the First Visit?
Going to the dentist can be scary for little ones but remember that before a first visit your child has no experience to pull from yet. For her the experience could be met with excitement and enthusiasm if framed that way, and at Kid's Dentistry we are committed to providing an encouraging and fun atmosphere where a trip to the dentist is not only worry-free, but maybe even fun! But, here's a few tips to try to help make the experience as comfortable as possible:
Read Books – There are many books about visiting the dentist. A few weeks before your visit, start reading some of them to your child. A few of our favorites are:
Role Play – Use dolls or stuffed animals to act out what will happen at the dentist. Take turns being the patient and the dentist and talk about what will happen and what they will see during the visit.
Come prepared – Bring comfort toys to help ease any anxiety in the waitingroom or the dentist chair.
Stay relaxed and positive – Even if you aren't a huge fan of the dentist, try not to let it show. Always talk about the dentist positively. Try to refrain from too much technical detail and focus on the fact the dentist is a doctor who helps build strong, healthy teeth.
Come for a tour – We are happy for you to swing by before your first visit so your little one can get familiar with the sights and sounds and see all the fun we have.
Schedule wisely – Try to schedule a first appointment when your child is typically in a good mood. Plan a visit when they are not sick, sleepy or hungry, and be sure to arrive with plenty of time to allow your child time to feel comfortable and relaxed.
What Should I Expect at a First Dental Visit?
The primary purpose for the first dental visit is to help your child feel comfortable with the dentist. The first visit is usually short where we will check all of your child's teeth, clean the teeth and offer fluoride treatments. At Kid's Dentistry we welcome parents to accompany their children during their visit and even encourage them to sit in your lap for a lap exam if that helps them feel more at ease. We strongly encourage oral care at home, so we will always offer oral hygiene instructions and talk with parents about their child's oral development. You will also have the opportunity to ask any questions. Some topics we may discuss with you include:
Good oral hygiene practices
Oral habits (thumb sucking, pacifiers, baby bottle tooth decay, tongue thrusting, lip sucking)
Teething
Proper nutrition
You will also schedule your child's next appointment to begin the habit of visiting the dentist on a regular schedule. Regular visits build up your child's confidence level and comfort with visiting the dentist and allow us to monitor his tooth development.
What is a Pediatric Dentist?
Pediatric Dentists are dedicated to the oral health of children from infancy through their teen years. Like any other dentist, pediatric dentists have to complete four years of dental school with two to three additional years of child-specific training and hospital training where they work with children with severe dental needs. This experience and knowledge gives pediatric dentists the ability to examine and treat children in ways to make them feel comfortable and to keep your child the center of their attention when treating. Not to mention our dentist offices are designed to be colorful, fun and child-friendly to make them feel right at home. Dental phobias are often rooted in childhood experiences, and our goal is to make kids feel comfortable and safe, so they learn to love and trust the dentist early on in life. We typically focus on:
Preventive Dental Care
Habit Counseling and Education
Early Detection and Treatment
Dental Injury Care
How Do I Encourage Good Oral Hygiene at Home?
Good oral care is more than going to the dentist every six months. To fight against oral problems, you must establish good routines at home, and children should begin to learn early the importance of having a good oral health routine at home. Here's a few things to practice at home between visits:
Brush twice a day – Good times to brush are after breakfast and before bed and kids should be brushing their teeth for at least two minutes. Put on a timer to help your child keep time. It's a good idea to help kids brush their teeth until age 5 and continue to supervise until age 7 or 8.
Floss – At least once a day, your child should floss her teeth. Flossing helps remove plaque and bacteria between teeth where a toothbrush can't reach.
Avoid sticky, sugary foods and drinks – Juices and soft drinks are the primary cause of tooth decay, gum disease and other oral health issues. Stick to water and milk.
Avoid putting babies to bed with bottles – Although convenient, even babies can develop tooth decay. When the sugar from the milk remains on the teeth for hours, it can eat away at the enamel.
Use a soft-bristled toothbrush – Let your child help pick out his toothbrush and be sure to change it every three months.
Use fluoride – Make sure your child gets some sort of fluoride, which is available in toothpastes and rinses and fluoridated tap water.
Set a good example – Let your child see you brushing and flossing your teeth and modeling good nutritional choices. Children look up to their parents, and when young children observe you brushing your teeth, research shows they want to brush too.
Key Takeaways
Good oral health starts early, and the benefits last a lifetime. Proper care involves going to the dentist and practicing good hygiene at home. Brushing, flossing, eating a healthy diet and regularly visiting the dentist help prevent cavities, bad breath, tartar buildup and other dental issues with an added bonus of flashing a beautiful, healthy smile.